Meet Our Team
Claudia Marrugo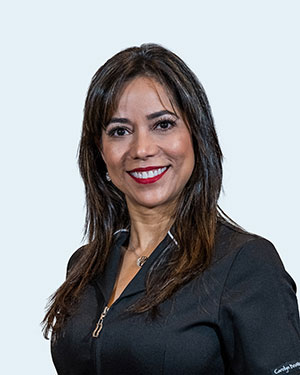 Registered Dental Hygienist
Claudia started working as a hygienist with Empress Dentistry in 2006. Claudia not only has a friendly personality, but is also very attentive to her patients needs. Patients appreciate her genuine enthusiasm for the hygiene profession. Prior to working with us, Claudia had studied dentistry in Colombia, where she practiced as a general dentist in Cartagena for 9 years. She subsequently moved to Toronto with her family, and enrolled in the Dental Hygiene program at George Brown College.
The dental profession has always been a real passion for Claudia and she strives to give the best possible oral hygiene service to her patients. Claudia's many interests include music, dancing spending time with her family. She is also engaged in her community and participates in several cultural events each year.
---
Adriana Ballesteros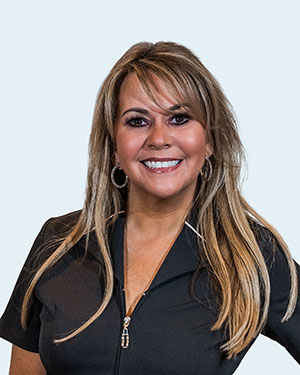 Registered Dental Hygienist
Adriana was born in Bogotá, Colombia and was interested from an early age in pursuing a career in the dental profession. She attended the Colegio Odontologico Colombiano where she obtained her dental license in 1991. She practiced general dentistry for several years in Colombia, before emigrated to Canada in early the mid-90's. In 2005, Adriana graduated from the Toronto College of Dental Hygiene and Auxiliaries as a Registered Dental Hygienist. She quickly joined Empress Dentistry following her graduation, and has been practicing with our team since.
Adriana's lively personality and her strong desire to interact with her patients to promote oral health has made her well-liked hygienist. Adriana loves spending time with her family, and socializing with her friends.
---
Catherine Quinones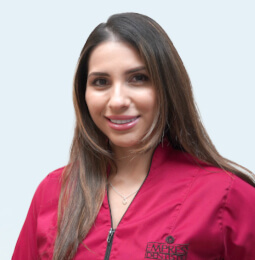 Registered Dental Hygienist
Catherine Quinones originates from Colombia and grew up in Calgary, Alberta, where she worked as a Dental Assistant for over 4 years. This experience in the dental field motivated her to further her study and pursue a career as a Registered Dental Hygienist. She subsequently moved to Toronto and graduated from the Toronto College of Dental Assistant and Auxiliaries. Catherine loves to help her patients achieve and sustain optimal oral health.
Catherine is an easy-going and very positive person who loves spending time with family and friends. Catherine enjoys traveling, good food, and exercising. Meeting and getting to know people from diverse background is what she enjoys most about traveling. Catherine's friendly and soft approach has patients feeling satisfied with their oral hygiene treatment.
---
Annett Irreno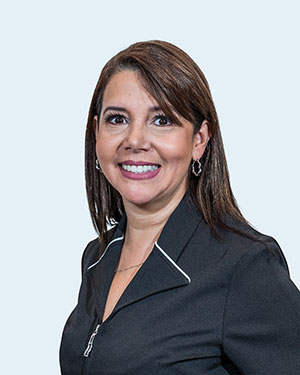 Restorative hygienist
Annett Irreno is a restorative hygienist who was born in Bogota, Colombia. It is at the University San Martin, Colombia, that Annett studied dentistry. After obtaining her DDS degree in 1993, she practiced dentistry in Colombia. Due to the many conflicts happening in Colombia in the 1990's, Annett immigrated to Canada. Toronto's diverse population reflects its current and historical role as an important destination for immigrants to Canada appealed to her. To settle down in Toronto, Annett studied Hygiene at the Toronto College of Dental Hygiene and got her degree in 2007. Given her passion for dentistry, she went on to take the Restorative Dental Hygienist program at George Brown College and graduated in 2014. As a restorative hygienist, she works closely with the dentists to perform advanced restorative procedures such as applying bonding systems and placing composite and amalgam restoration (fillings). She continues to learn new techniques and systems and has recently completed a Responsible Periodontics course.
Annett loves the positive impact and aesthetic benefits that dental treatments offer patients, often times boosting their self-confidence. She pays special attention to her patients' needs and enjoys discussing personalized treatments. During her spare time, Annett loves making crafts with her children, enjoys painting and playing guitar.
---
Our administrative team is happy to welcome you to our office. Our team of dental receptionists and treatment coordinator possesses several years of experience in the dental industry. Our goal is to offer you a pleasant experience at every step of the way towards optimal oral health!