Meet Our Dentists
Dr. Marcela Ortega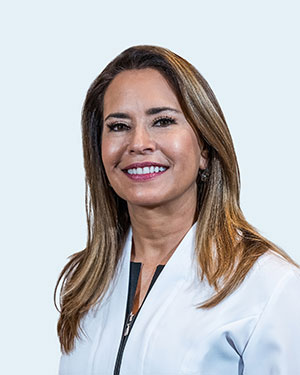 Dr. Ortega is the principal dentist of Empress Dentistry with over 20 years of professional experience in Toronto. Dr. Ortega graduated from Pontificia Javeriana University, Bogota, Colombia in 1990. Following her graduation, she completed a year-long multi-disciplinary residency at Montreal University in conjunction with practical work at St-Mary's Hospital in Montreal. Dr. Ortega passed the National Board of Examination and obtained her license in 1995 and immediately started practicing dentistry in Montreal.
In 1995, Dr. Ortega moved to Toronto where she practiced on a full-time basis as an associate in a dental practice downtown Toronto up until 2004. That year, Dr. Ortega opened Empress Dentistry in the busy North York city centre. Dr. Ortega has developed advanced skills across a wide range of restorative and cosmetic dental treatments including implants, crowns, and veneers. Her primary focus is to listen to the needs of her patients and attend to them with care, compassion and professionalism. She can also communicate with patients in English, French and Spanish.
Dr. Ortega is proud of the team that surrounds her at Empress Dentistry. Outside of work, Dr. Ortega loves spending time with her family and friends. She also very much enjoys traveling, music, cycling, sailing and walking her dog.
---
Dr. Qi Shen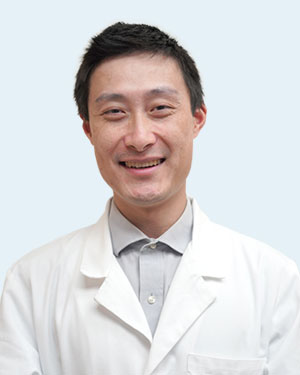 Dr. Shen came to Canada at an early age and grew up in Richmond Hill, Ontario. Following the completion of an undergraduate program at McMaster University, Dr. Shen enrolled in the Doctor of Dental Surgery program at the University of Melbourne, Australia. Upon graduating in 2017, he returned to Toronto to rejoin his family and start practicing dentistry. Dr. Shen can treat patients in English and Mandarin.
Dr. Shen takes great satisfaction through the interaction he has with patients. He always takes the time necessary to discuss the reasons for treatment and the possible options that may be available to patients. This education is important in making patients at ease and establishing a trust relationship with them. Dr. Shen has also taken additional courses in Nitrous, oxide and oral sedation, as well as Oral Surgery for the General Practitioner to further his knowledge of the field.
Dr. Shen loves the city of Toronto's open and multi-cultural environment. In addition to taking his dogs out for hikes, Dr. Shen is passionate about cooking.
---
Dr. Golriz Sanei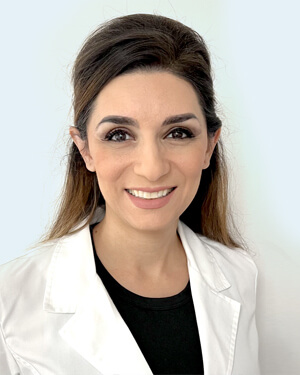 Dr. Golriz Sanei received her Doctor of Dental Surgery degree from the University of Toronto in 2015, and has been working in the GTA since her graduation.
Before coming to Canada and graduating from UofT, she was practicing dentistry in Iran, where she was initially trained as a dentist. Having worked in different parts of the world, she is used to treating patients from different backgrounds and of all ages. Dr. Sanei is a general dentist providing a wide range of treatments to help her patients oral health. She loves developing great relationships with her patients, and she strives to make everyone comfortable during their visit with her.
In her personal life, Dr. Sanei enjoys spending time with her husband and twin daughters. Her pass-times include watching movies and live music, swimming, baking and traveling. We're happy to have Dr. Sanei as part of our team at Empress Dentistry.
---
Dr. Nancy Kamal Abo'harb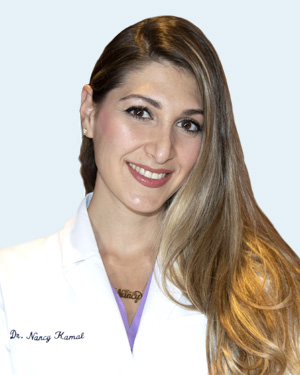 Dr. Nancy Kamal graduated with her Doctor of Dental Surgery Degree from University of Carabobo in Venezuela in 2015. After several years of working as a Dentist in Venezuela, she moved to Toronto in recent years. Shortly after relocating, Dr. Nancy successfully completed her National Examination Dental Boards and obtained her license to practice dentistry in Canada. Dr. Nancy Kamal is also a member of the Ontario Dental Association.
Dr. Nancy is truly passionate about the field of dentistry. Above all, she loves clinical areas such as cosmetic dentistry, oral surgery, restorative and digital dentistry. But what drives her most is the desire to ensure that every patient feels comfortable and at ease while receiving the highest quality of care through an individually tailored plan. Dr. Nancy is a strong believer in oral health prevention. Being pro-active often prevents more serious problems from developing down the road. With this approach and while working with people of all ages, she strives to establish a trusting and long-lasting relationship with all her patients. Dr. Nancy is very friendly, personable and dedicated to providing the highest quality of dentistry to all her patients.
Dr. Nancy has a Lebanese heritage. Being fluent in Arabic, Spanish and English and with her multi-cultural upbringing, Dr. Nancy enjoys communicating with people of all backgrounds. Outside of the practice, she loves outdoor activities and yoga. She is also a foodie who loves trying new restaurants.
---
Dr. Jaime Guerrero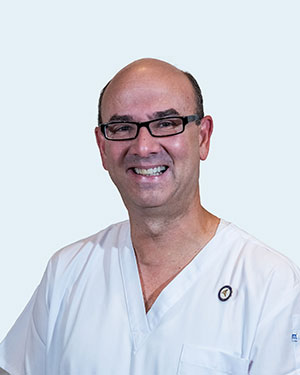 Dr. Jaime Guerrero grew up in Cartagena, Colombia. He studied dentistry at the University of Cartagena, School of Dentistry, and graduated in 1993 with his DDS degree. He then completed his Oral and Maxillofacial Surgery Residency and graduated with honours from Pontificia Javeriana University, Bogota in 2000. Dr. Guerrero Subsequently went to the University of Miami to complete a one-year clinical rotation in Maxillofacial Tumor and Reconstructive Surgery at the Jackson Memorial Hospital. Dr. Guerrero then built a private practice in Colombia where he worked for over 10 years prior to moving to Canada. It is at the University of Toronto that Dr. Guerrero completed a Master's of Health Sciences (MHSc) degree in Bioethics in 2011, and passed the National Dental Examination Board of Canada in 2014. During the course of his career, Dr. Guerrero's a significant part of his training was devoted to Orthognathic Surgery, TMJ Surgery and Dental Implantology.
Dr. Guerrero loves the technical challenges that this profession offers and continuously takes courses to further his knowledge. He is currently enrolled in a course series on membranes, material and stabilization techniques and procedures for volume restoration and maintenance. Patients at Empress Dentistry are happy to see Dr. Guerrero's for complicated extractions and implant treatments. As a highly trained clinician, Dr. Guerrero loves the opportunity to provide optimal oral health care and restorations to patients. Dr. Guerrero appreciates the support team at Empress Dentistry, because complicated surgeries are conducted efficiently to the patients' satisfaction. Dr. Guerrero spends a lot of time with his family and is currently learning to play piano alongside his daughter.